Version 0.013 Changelog - Added Windows System Tray Icon
---
Version 0.013 is a Windows only build. I have added a System Tray Icon. When the App starts, the tray icon should be displayed. If you desire, you may change it to always be displayed by dragging it to the task bar.

When the timer is active, the tree icon is in color. When the timer is stopped, the tree icon is grey. Hovering your mouse over the tray icon will show a message that says "Timer is running", or "Timer is stopped" respectively. Double clicking the icon will bring the app to the forefront, if it is minimized or hidden under other windows. Right clicking on the icon will show a menu that lets you either start/stop the timer, or exit the app.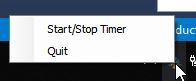 NOTICE: The app now closes to the system tray when it is closed. In order close the app fully, you will want to exit through the tray icon.
Version 0.013 has only been tested in Windows 10.


Future features for the tray icon will include greater customization (For example: close normally instead of closing to tray, optional windows notification, etc.) I was going to add these features for this release, but wasn't able to.

Files
ProductiveGame 2 - Trees-0.013 - windows.zip - With System Tray Icon
15 MB
Jan 09, 2019
Get ProductiveGame 2 - Trees